Deborah Gust
« Sarcasm: punching people with words. »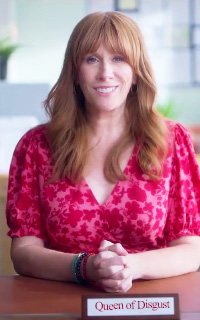 | Avatar

: Catherine Tate




- Youhou Deborah, regarde ce que je sais faire !
- C'est bon, je démissionne, j'en ai marre des débiles.



| Conte

: Inside Out


| Dans le monde des contes, je suis :

: Disgust



| Cadavres

: 4203



________________________________________ Sam 19 Oct 2019 - 20:33
---
Crédit : Anya
♥°•.¸ Once ☆ Upon ★ a ☆ Time ¸.•*´♥´*•.¸°•.¸ Disney ☆ R ♥ P ☆ G ♥
I'm sorry I offended you with common sense
Vaiana de Motunui
« J'ai pas trouvé où on peut demander un rang personnalisé... ! »
| Avatar

: Zendaya Coleman *o*


Rage is a quiet thing
Ooh, you think that you've tamed it
But it's just lying in wait
Rage, is it in our veins?





| Conte

: Vaiana, la légende du bout du monde


| Dans le monde des contes, je suis :

: Vava, la fille du chef qui n'est pas une princesse même si elle chante et a des animaux de compagnie






| Cadavres

: 2902



________________________________________ Sam 10 Oct 2020 - 17:09
---
(c) Natoune
♥°•.¸ Once ☆ Upon ★ a ☆ Time ¸.•*´♥´*•.¸°•.¸ Disney ☆ R ♥ P ☆ G ♥
I'll shake this world off my shoulders
I get up in the evenin' and I ain't got nothin' to say. I come home in the mornin'. I go to bed feelin' the same way. I ain't nothin' but tired. Man, I'm just tired and bored with myself. You can't start a fire without a spark. This gun's for hire even if we're just dancin' in the dark.